We are excited to be having a tethered hot air balloon at the 2022 Air Affaire.
This is through Dream Catcher and is for veterans and persons with disabilities.
Rides will be available from 8 am to 3 pm (weather permitting)
To reserve your space for flight contact:
Morning Star Balloon Co.
Olympic Peninsula Adventures
Celebrating 35 Years of flying the skies of Washington & Beyond
(360) 601-2433 airboss@nwplace.com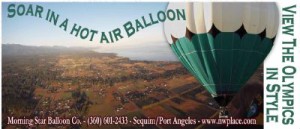 Every year is an exciting year for us. Why? Because we are a big part of the Olympic Peninsula Air Affaire and get to fly balloons, meet new people, explore new skies, share wonderful memories, and teach adults to play like children. Have fun with us through Captain Crystal's youtube videos or
Morning Star Balloon Co. FaceBook page.
Email us to become a member of our Flight Team. We are always looking for quality people who want a fun weekend or hobby, willing to meet new and interesting people, and enjoy early morning adventures. We will put you on the roster and when we fly, will let you know. We would love to get you involved and best of all…IT'S FREE!
CLICK HERE TO VIEW THE MORNING STAR BALLOON COMPANY'S WEBSITE
Chrysalis Dream Catcher Balloon Program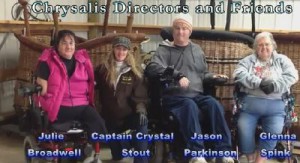 Captain Crystal Stout, Executive Director, Founder and Creator of the Dream Catcher Balloon Program has been flying and teaching people to fly hot air balloons for 28 years. As an experienced Aviatrix, she is currently Chief Flight Officer and Owner of Morning Star Balloon Co. and operates hot air balloon programs around the globe. She has owned a powered parachute, flown airplanes and helicopters, has skydived in many parts of the U.S., but loves the challenge and joy of sharing hot air ballooning to thousands the world over. As a Champion Corporate Hot Air Balloon Pilot, Captain Crystal Stout has traveled the world creating events in New Zealand, Puerto Rico, Japan, and across the United States leaving smiles everywhere she goes. As the Chief Pilot of Morning Star Balloon Co., Captain Crystal has won numerous hot air balloon competitions as well as ranking in the Top 10 Women Lighter than Air Pilots in the U.S. She is also a third generation aviator following in the footsteps of her grandfather who crewed on the original stratospheric balloon program launched in 1934-35 in Rapid City, South Dakota and taught her father to pilot a hot air balloon as well. Before becoming a confident and enthusiastic competitor, she completed schooling at one of three 141 Aviation Schools in the U.S. Fierce educational values were in place at the school and the Federal Aviation Administration (FAA) used this Oregon-based school as a test facility which enabled Captain Crystal to undergo duplicate flight training. This training enables her to provide a safe experience flying in a hot air balloon.
With a Degree in Radio/Television Broadcasting, Captain Crystal Stout has the marketing edge and knows how to speak to the media for her corporate accounts. While working as the Spokesperson for PPG/CART (Indy Car Racing Teams) and the KOOL Balloon Racing Series, she traveled to 10 cities across the U.S. and was interviewed by Good Morning America, Good Morning Detroit, Miami, St. Louis, Good Morning Monterey, and other Networks and Affiliates.While in New Zealand she was the Media Liaison and Co-Balloonmeister (or person in charge of pilots, competitions, sponsorships, and marketing). A normal day required 19 hours of time on the road conducting balloon flights, balloon tethers, radio and print interviews, television interviews, and arrangements for pilots, crew, and sponsors.
Captain Crystal has flown the largest balloon in the world…a special shaped Indy race car which stood 18 stories tall. She has also owned a smaller, one person ultralight balloon which led to her manifestation of the Dream Catcher Balloon Program two years ago. She has flown in extreme conditions for Absolut Mandarin and Seagram's Vodka during a wind storm in Chicago and a hurricane front in Miami. With a safety record that spans her flight career and dedication to getting the job done, she was able to keep the balloon aloft and "on air" for the helicopters circling above and completed a four city tour across the U.S. for the launch of this new Swedish product.
Known as the "Peter Pan" for adults, her true passion is to teach adults to play like children. However, she knows the smart pilot seeks ways to get the Corporation she is promoting a place in the spotlight and goes beyond the norm to get her clients exposure in hot air balloon marketing venues. After being the Balloonmeister (Airboss) of the Sequim Balloon Festival held in Washington State during Labor Day weekend of 2012, Captain Crystal moved to the Olympic Peninsula where view of the mountains, ocean, and islands created fantastic vistas. It was here in the Olympic Peninsula, that her ultimate Dream would come to fruition with the arrival of a two seated, ultra light balloon for special needs, disabled, and "other-abled" wheelchair bound individuals. As the Executive Director of Chrysalis, a nonprofit 501(c)3 corporation founded by her in December of 2012, life is definitely one success after another. Funds are currently being procured in order to bring the Dream to life, the first of a mini-fleet which will spread throughout the globe to share joy and lift spirits of those who are bound by a chair.
Chrysalis/Dream Catcher Balloon Program
P.O. Box 785, Carlsborg, WA 98324 (360) 207-4768 dreamer@nwplace.com